Investment thesis
Nutrien (NTR) is well positioned to take advantage of the large potash and nitrogen disruption in Europe. Here's the backdrop, Russia's invasion of Ukraine caused a huge logistical disruption in what was already a tight market, with low inventory and high prices.
Additionally, recent sanctions facing Russia have complicated how Russian companies could be paid for their potash and crops, not to mention Belarus' ability to feasibly export potash out of the country.
Given this backdrop, as well as the fact that Nutrien is providing investors with compelling forecasts for 2022, this investment is very attractive.
Also, let's not forget, Nutrien's balance sheet is now very strong and the company is determined to buy back 10% of its shares this year.
In short, there is a very favorable investment here. Here's why:
Investor sentiment is strengthening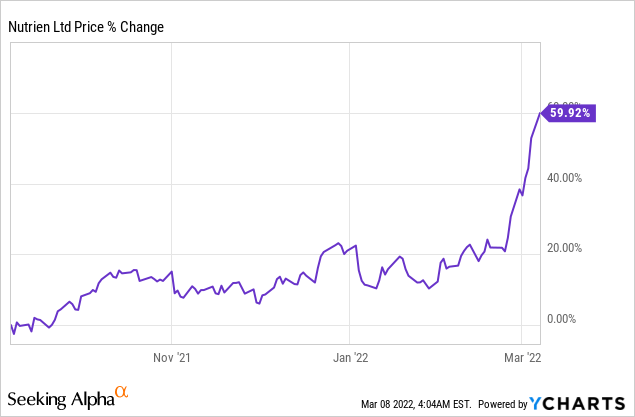 After years of seeing its shares trade sideways, Nutrien's stock price has been soaring lately. The reason is that Russia's invasion of Ukraine has greatly destabilized the crop market in Europe.
So even if there were no sanctions on the exit of potash in Belarus, the fact remains that it has become a logistical nightmare to get potash to Europe and other regions of the world.
This caused a spike in potash prices. No one knows how long this spike persists. But as you'll read, there are plenty of reasons to consider Nutrien based on its own fundamentals, with distribution in Europe being an upside option.
How sustainable are Nutrien's revenue growth rates?

As we know, the fourth quarter of 2021 saw Nutrien's revenue jump 84% year-over-year in the fourth quarter. And this high rate of revenue growth is expected to persist into early 2022.
However, the big question is the murky overall picture as Nutrien enters the second half of 2022.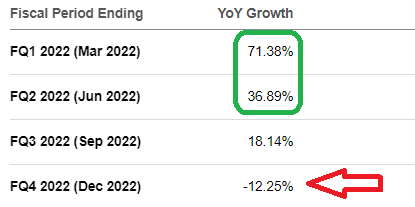 This is what we know at the moment, Nutrien's end markets are very solid, while its input prices are reasonably contained, so the two aspects combined give Nutrien a very favorable image, at least short term.
However, the inescapable question remains what the 2022 exit rates will be and if there is lucky that this uncertainty is already widely taken into account.
For my part, I suspect that it can already be taken into account to a large extent.
Do profits really matter?
From 2020 to 2021, investors are becoming obsessed with growth-at-all-costs investment strategies. However, in 2022 it is a very different landscape. Investors are suddenly very concerned about bottom line profitability. That being said, I maintain that Nutrien is in good shape.
Indeed, Nutrien generated strong profitability in 2021.

To illustrate, as you can see above, free cash flow, including changes in working capital, increased 10% year-on-year to $2.6 billion. This figure in itself is not bad. However, even more important is what Nutrien plans to do with that free cash flow through 2022.
However, before discussing Nutrien's use of free cash flow, let me take a step back to remind readers that Nutrien's net debt/EBITDA profile means that its leverage will end in 2022 below 1x.
Indeed, while it is difficult to have visibility on Nutrien's free cash flow profile in 2022, management is guiding investors for approximately $10 billion to $11.2 billion in adjusted EBITDA.

Additionally, as you can see above, Nutrien ended 2021 with approximately $7.1 billion in adjusted EBITDA. This implies that at the midpoint, Nutrien guides investors to grow its adjusted EBITDA by nearly 50% y/y in 2022.
In practical terms, I argue that most reasonable investors would expect much of this increase in Adjusted EBITDA to flow through Nutrien's free cash flow. But let's be super careful with our estimates to allow for a big margin of safety.
All things considered, I suspect Nutrien's free cash flow, including working capital requirements, could be close to $3.5 billion. Note that for this, I estimate that the nearly 50% increase in Nutrien's adjusted EBITDA forecast only results in a 35% year-over-year increase in actual free cash flow. Giving my estimate a large margin of error.
Now let's move on to this use of free cash flow. Nutrien's management openly states that in 2022, Nutrien expects to "purchase up to 10% of Nutrien's outstanding common stock over a one-year period."
Obviously, this is going to be very favorable for investors.
NTR Share Valuation – Very Reasonably Priced
Nutrien is valued at a market capitalization of approximately $55 billion (C$70 billion). That puts the stock price at about 16 times this year's free cash flow.
Although there is uncertainty as to whether or not the recent spike in potash and nitrogen prices will persist, the fact remains that the current outlook is the best it has been in a while. time.
In the meantime, it's hard to argue that Nutrien is expensive when everything is considered.
Also, keep in mind that Nutrien is expected to repurchase almost 10% of its market capitalization this year. This means that despite a favorable environment, with stronger free cash flow and a better balance sheet, investors will also benefit from increased share buybacks and increased dividends.
The essential
For a long time, commodities have been neglected by investors. But logistical issues in getting potash to Europe have recently reawakened investors to the attractive risk-reward profile that investors get in this space.
I think paying 16 times this year's free cash flow, coupled with meaningful redemption, provides investors with an attractive investment profile. Whatever you decide, good luck and good investment.